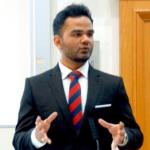 Full Name
Siddharth Sinha
Officer on Special Duty to the CEO
NITI Aayog (National Institution for Transforming India)
Siddharth serves as Officer on Special Duty (OSD) to the Chief Executive Officer of the National Institution for Transforming India (NITI Aayog) and advises the CEO on policy matters.
NITI Aayog is India's apex policy institution and the nodal central government agency tasked with catalysing economic development and fostering cooperative federalism.
At NITI Aayog, Siddharth is leading projects on transport decarbonisation, digital financial inclusion and circular economy. He has undertaken the evaluation and cost-benefit analysis of a number of national transport projects, including regional high-speed rails, metro rails and dedicated freight corridor projects.
He also serves as a Deputy Champion of the EDISON Alliance of the World Economic Forum, where he represents India. He is responsible for India's contribution to the "1 billion lives challenge", which aims to improve a billion lives globally through affordable and accessible digital solutions by 2025.
Prior to joining NITI Aayog, Siddharth worked with the Strategy Consulting team of KPMG in India. He holds a Bachelor's degree in Electrical Engineering and a Master's Degree in Public Administration from the London School of Economics and Political Science.