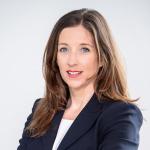 Executive Vice President Communications and Corporate Affairs
Julie Kitcher is EVP Communications and Corporate Affairs of Airbus and a member of the Executive Committee, reporting to the CEO. Julie also serves as the Chief of Staff to the CEO.
Julie heads Communications. In addition, she drives Airbus ambition and contribution to sustainable aerospace. Her role also oversees and coordinates the transformation agenda of Airbus, Performance Management, Corporate Audit and Internal Controls.
Julie has over 20 years of experience at Airbus. She has held a number of roles in Finance including Financial Analyst, Corporate Planning and Business Controlling. Most recently and prior to her current position, Julie was the Head of Investor Relations and Financial Communication. Under Julie's leadership, Airbus was awarded the "Most Honoured Company" status in the Institutional Investor All Europe Executive Team survey four years in a row - 2015 to 2018. As part of this recognition, Julie was named "Best Investor Relations Professional" in the Aerospace & Defence sector for the same period.
She also previously held a role in GE Capital Equipment Finance in the UK. Julie is a Chartered Management Accountant (CIMA) with an MSc from ESC Skema (Lille).