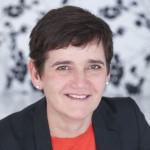 Full Name
Ingrid Cherfils
Director of Strategic Development and Management
Ingrid has a Master degree in International Law and European Law and a Postgraduate Degree in Litigation and Arbitration from the University Paris-II Assas and a Master degree in Law from the University of Lund, Sweden.
She started her career in the aviation sector in 1998 as a senior advisor in the Civil Aviation Administration and moved on to be Head of Unit Market and Safety Analysis and later on Head of Unit Legal Matters. In 2010 she took on the position of Director of Civil Aviation within the Swedish Transport Agency, and in 2013 she became Director of the Civil Aviation and Maritime Department. As of 1 June 2017, she is Director of the Strategic Development and Management Department.
Ingrid was also President of ECAC (European Civil Aviation Conference), from December 2014 to July 2021. She has been Vice President of Eurocontrol Provisional Council and Chairperson of EASA Financial Advisory Board.