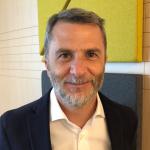 Full Name
Francisco Laverón
Head of Energy Prospective, Innovation and Sustainability Division
Francisco Laverón is Head of Energy Prospective in the Innovation and Sustainability Division at Iberdrola, a multinational electricity utility with headquarters in Spain. With over 170 years of history, Iberdrola is now a global energy leader, including the number one producer of wind power, and has brought the energy transition forward two decades to combat climate change and provide a clean, reliable and smart business model.
Francisco is an Industrial Organization Engineer (Polytechnic University of Madrid) with a specialization in Economics of the Power Sector (Universidad Carlos III of Madrid). He has more than 25 years of experience in the energy sector and has been working to decarbonize the transport sector and integrate electric vehicles into the electricity system.
He is a member of the Corporate Partnership Board of the International Transport Forum.