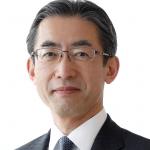 Member of the Board, Vice Chairman
Yuji Hirako is a Member of the Board, Vice Chairman of ANA HOLDINGS INC. Hirako was appointed to this role on April 1st, 2022. 
Hirako graduated from Tokyo University with a degree in economics. Since joining ANA in 1981, he has held various positions in Tokyo. Hirako has spent much of his career in the network planning division, during which time ANA started international scheduled services and undertook a massive expansion effort across Asia, Europe, and North America.
From 1999 to 2001, Hirako was Executive Assistant to President and CEO Nomura, who decided on ANA's joining of Star Alliance. From 2004 to 2006, he was Director of Passenger Services at ANA's Tokyo Airport Office. He held the position of Director of Revenue Management from 2006 to 2008, followed by Director of Finance & Accounting from 2008 to 2010. Between 2010 and 2011, he served as Vice President of Corporate Planning, followed by Senior Vice President of Marketing & Sales from 2011 to 2012. He then spent time in New York as Senior Vice President for the Americas as well as General Manager of New York from 2012 to 2015. In 2015, he returned to Japan where he served as CFO, Executive Vice President, and a Member of the Board of both ANA and ANA HOLDINGS INC. until 2017. From April 2017 to March 2022, he served as President and CEO of ANA and a Member of the Board of ANA and ANA HOLDINGS INC.
He currently resides in Tokyo with his wife.