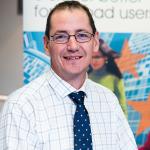 International Road Assessment Programme (iRAP)
Rob McInerney is the Chief Executive Officer for the international Road Assessment Programme (iRAP), a registered charity with the vision for a world free of high-risk roads.  With RAP projects and programmes now active in over 100 countries worldwide, Rob works closely with key development bank, political and technical leaders from each country to build local capacity and deliver large scale and long term road safety benefits through the provision of safer road infrastructure as part of their own RAP programmes.
Rob was awarded the IRF Global Road Safety Award in 2017, Fellowship of the Australasian College of Road Safety in 2015, received the Prince Michael International Road Safety Award in 2014 and again in 2020 and the Alex Award in 2022 in recognition of the work of iRAP globally.
Powering inclusive innovation: the role of transport
Wednesday, May 18, 2022 - 16:30
18.00