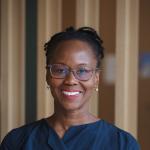 UN Road Safety Fund (UNRSF)
Nneka Henry has served as Head of the United Nations Road Safety Fund (UNRSF) Secretariat since 1 May 2021. 
She joined UNRSF from the International Trade Centre (ITC), the joint agency of the United Nations and World Trade Organization. At ITC she was a senior adviser to the ITC Executive Director, since 2013, with a portfolio of responsibilities covering donor relations and fundraising, partnerships development and global outreach and advocacy on development priorities such as gender equality and women's empowerment.
With over 10 years of experience in large programme management, Ms. Henry has also served in the United Nations system as ITC's corporate Project Quality Assurance Officer; Project Manager within the Large Programmes Management Unit; and Country Manager in theBureau of Policy and Programmes' Office for Africa. Previously, Ms. Henry worked in the Legal Affairs Department of the Word Trade Organization.
Ms. Henry holds a Master of Laws from the University of Melbourne in Australia and a Bachelor of Laws from the University of the West Indies in Jamaica. In 2011 Ms. Henry also became a certified Project Management Professional (PMP).
Meeting the road safety challenge: Halving the deaths and injuries by 2030
Wednesday, May 18, 2022 - 11:00
12.30