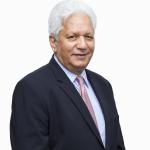 PIARC (World Road Association)
Nazir Alli is also a World Bank Consultant with 40 years' experience as a distinguished civil engineer in both public and private sectors. He was the founding CEO of the South African National Roads Agency Limited (SANRAL) in postapartheid South Africa and is a globally recognized leader in public-private partnerships (PPPs) and the development of small and micro enterprises. He is best known as an international advisor on transport systems and institutional reform, as well as on economic infrastructure policy and the development of rural roads. 
Among other, he holds a BSc (Civil Engineering) degree from the University of Plymouth (UK – 1978) and completed an Executive Management Programme at the Haas Business School, University of California at Berkeley (USA – 1997), as well as the Oxford Strategic Leadership Programme – Oxford University (UK – 2016), and a PG Dip Futures Studies, Stellenbosch University (SA – 2019). 
In addition to transforming a government department into a corporatized national roads agency, some of his significant achievements include major multi-billion ZAR infrastructure projects such as cross-border toll roads and binational water supply and hydropower projects. During his tenure as CEO of SANRAL, he oversaw the development of national secondary bond markets for toll roads, and, at the time, introduced the world's first interoperable electronic tolling system
Meeting the road safety challenge: Halving the deaths and injuries by 2030
Wednesday, May 18, 2022 - 11:00
12.30