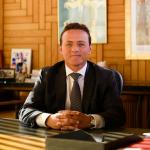 Full Name
Mohammed Abdeljalil
Minister of Transport and Logistics
Mohammed Abdeljalil, appointed Minister of Transport and Logistics in October 2021, was born in Rabat.
After the Baccalaureate C and the preparatory classes, he began his engineering training at the École Nationale des Ponts et Chaussées (ENPC) in Paris, from which he graduated in 1991. From 1999 to 2001, he obtained a joint MBA from the ENPC and the Hassania School of Public Works in Casablanca (EHTP).
A trilingual engineer, he has climbed various levels both in the private sector, where he began his career, and in public administration.
First, at the Arthur Andersen firm in Paris as an auditor, he remained there until 1993. In 1998, he returned to Morocco where the Bymaro company (a subsidiary of the BOUYGUES group) entrusted him with leading the construction site of the El Hank pre-treatment station in Casablanca. He was then appointed Commercial Director responsible for detecting, analysing and selecting projects and developing commercial proposals.
In 2003, he joined the public administration as Director of Programs and Studies at the Ministry of Equipment and Transport, where he participated in major projects such as the creation of the fund for road financing and air transport liberalisation.
Two years later, in 2005, he was appointed Director General of the Office for Port Operations (ODEP), where he participated in the implementation of port reform.
He successfully led the transformation project of the office and became the first Chairman of the Board of the Marsa Maroc Company, in December 2006.
He oversaw the new Terminal TC4 in Tanger Med II and the new Terminal TC3 in Casablanca, and supervised the improvement of the quality of service of the container terminal at the port of Casablanca during the congestion crisis of 2007.
In 2016, he successfully led the IPO of the country's leading port operator, Marsa Maroc.
Minister Abdeljalil is married and has two children.
Meeting the road safety challenge: Halving the deaths and injuries by 2030
Wednesday, May 18, 2022 - 11:00
12.30
Transport as a catalyst for inclusive societies
Wednesday, May 18, 2022 - 14:30
16.00
Transport and climate change: Moving forward from COP26
Thursday, May 19, 2022 - 16:30
18.00