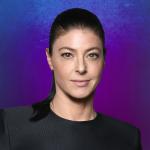 Minister of Transport and Road Safety
MK Merav Michaeli is Israel's Minister of Transportation and Road Safety, a member of the security cabinet and head of the gender equality cabinet that she established. She was elected leader of the Labor Party in January 2021. A Member of Knesset since 2013, Merav Michaeli served as an opposition MK on the Foreign Affairs and Defense Committee, including its subcommittees, and the House Committee. As transport minister, she articulates a vision of a greener, smarter transport that does not just move people from place to place but serves as a vehicle for social mobility for all parts of Israeli society.
Prior to her election to the Knesset, MK Michaeli was a senior journalist at Haaretz, regularly publishing op-eds and interviews. She also edited and hosted news and entertainment programs on both television and radio. MK Michaeli was involved in the establishment of Galgalatz and Radio Tel Aviv radio stations and served as a lecturer in universities and colleges on media and gender.
In her political and parliamentary activity, MK Michaeli continues her professional and ideological path. For over 20 years, MK Michaeli has been involved in feminist activism, seeking to promote women's equality and opportunity. She also works to promote the rights of minorities, labour rights and the peace process. MK Michaeli has been ranked as one of the most prolific and most socially-oriented legislators.