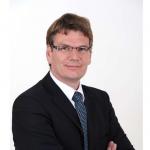 Full Name
Marcel Huschebeck
Principal Logistics Research
Marcel Huschebeck is Principal Logistics Research at the PTV Group Karlsruhe responsible for PTVs' logistics research projects. Marcel became head of department of logistics research in 2008 and formed the department called Concepts&Solutions bridging R&D activities and prototypical implementation of PTV customer software solutions in the logistics domain.
Marcels expertise embraces the co-ordination of an extensive expert network on urban logistics and synchromodality topics. Marcel co-ordinated 8 EU research initiatives over a period of 20 years. He holds responsibility for the conceptual design and specification of software developments in the field of innovative solutions in urban freight, synchromodality as well as sustainable and green freight transport.
Marcel was invited member of the high-level EU/US Symposium for transatlantic research priorities (2013). He is also involved in several PTV Academic Partnerships and is lecturer at the University of Applied Science in Kehl (Regional Cluster Management) and TU Munich (ITS in Transport). He is an active member of the EU DTLF, ALICE ETP for freight and logistics and the ERTICO network.