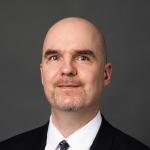 Marc was appointed to the role of WBU CEO in January 2022. He has extensive knowledge of the disability non-profit sector, having held management positions in the areas of advocacy, public affairs, and program delivery with the Canadian National Institute for the Blind. Additionally, Marc is an experienced public servant who served for over five years in various roles within the Government of Alberta, Canada, including as Executive Advisor to an Assistant Deputy Minister in Service Alberta.
Marc has a master's degree in political science from the University of Alberta along with a bachelor's (with honours) from the same university. As an accomplished public speaker, Marc regularly gives talks on diversity and inclusion to large audiences and guest lectures on bioethics and disability policy at local universities.
Marc has actively volunteered in the Canadian disability movement for 15 years, holding a variety of roles with organizations such as the Alliance for Equality of Blind Canadians, the Council of Canadians with Disabilities, Barrier Free Canada, and Voice of Albertans with Disabilities.
Marc resides in Edmonton, Alberta, Canada where in 2020 he was named one of the city's Top 40 Under 40 for his many contributions to the community.