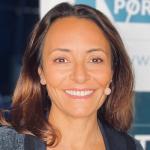 Assistant Director, External Affairs
International Air Transport Association (IATA)
Linda Ristagno is Assistant Director of External Affairs at the International Air Transport Association (IATA). Linda has a multifaceted experience in bilateral and multilateral policy negotiations and is responsible to advocate on behalf of airline members towards national and international regulations that might have an impact on aviation.
In her role, Linda is responsible for developing global advocacy positions and fostering multilateral dialogue on the relevant topic of accessibility for passengers with disabilities and the ageing population. She also acts as the liaison with the tourism industry by engaging with international actors to promote the relevance of aviation as a force for good in global tourism development. 
Linda joined IATA in 2010 and since then, covered various posts, holding operational, regulatory and cargo security responsibilities.
She has a vast maritime background, having led for over 15 years numerous projects within the Mediterranean Shipping Company (MSC), the first world largest shipping company in the world.
She has a Bachelor's degree in Foreign Language with Russian Studies from the University of Pisa (Italy), and an Executive Master's degree in Advocacy, International Negotiation and Policymaking from the Graduate Institute of International and Development Studies of Geneva.