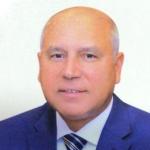 H.E. Kamel El Wazir graduated from Military Technical College - Civil Engineering department (class 17) in July 1980. He occupied all the leadership positions of military combat engineers and ranked in positions until he became the director of military engineers dept. in 2011. He was appointed the chief of staff of the armed forces engineering authority in July 2014 and was mandated by President Abdel Fattah Al Size to oversee the project of digging the new Suez Canal and finalising it in one year only, which was opened in 2015. He occupied the position of the head of the Armed Forces Engineering Authority from 2015 until 2019 and was appointed Lieutenant-General in 2019. He became responsible for the portfolio of the Ministry of Transport in the government of Dr Mustafa Madbouli in 2019. He got all the educational/training classes with military engineers force. He holds a Master's degree in military science (round 40), Chief of the General Staff - High War College fellowship, Nasser Military Academy (round 24), top management round in 2014. He also received numerous orders and decorations such as: Long Service and Good Example Medal in 2001, Military Order of the Second Class in 2003,  Excellent Service Order in 2011, Medal of 25th Jan Revolution and Medal of 30th June Revolution in 2013.
The Engineering Authority of the Armed Forces during the period of his responsibility completed the implementation of 1813 projects out of a total of 2729 projects assigned to be implemented by  it in cooperation with the relevant bodies and ministries to serve the comprehensive development plan in the state, the most important ones are: New Suez Canal - Suez Canal Tunnels in North Ismailia and South Port Said - 1.5 million feddans development  and reclamation - East Port Said  Area Development  - Road, Resort and City of Jalala - New Administrative Capital - Al Fattah  Al Aleem Mosque and Cathedral of the Nativity  - National Roads Network - national project of construction of one million residential units - Cement Factories Complex in Beni Suef - Phase II of Arish Cement Factory - Marble Factories in Beni Suef and Ain Sokhna - Damietta Furniture City - Textile factories in Your Job Next to Your Home Project - Development of Sphinx Airports in West Cairo, Capital of Katamia, Bardawil, Central Sinai to be international airports - established 100 Egyptian, Japanese schools - medical and therapeutic facilities, hospitals, medical centres, health units.
In addition to the implementation of several military projects and the most important ones are: the development of the Mohammed Najib military base and the establishment of the new strategic leadership of the armed forces. In addition to the great role of the Engineering Authority in the war against terrorism in the Sinai Peninsula and Sinai 2018 operations, as the Engineering Authority Overcome the tunnels and the eastern international borderline, he implemented the buffer zone and secured the El Arish airport.
Transport and climate change: Moving forward from COP26
Thursday, May 19, 2022 - 16:30
18.00