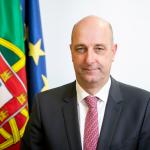 Secretary of State for Urban Mobility
Jorge Moreno Delgado was born in 1967, in Viana do Castelo. 
He graduated in Civil Engineering in 1990, completed his MSc in 1993 and his PhD in 2002 at Universidade do Porto. 
Between 1990 and 1995 he worked as a senior designer in the area of Structures and Geotechnics. 
In 1995, Jorge Delgado became part of the teaching staff at Instituto Politécnico de Viana do Castelo (IPVC). In IPVC, he was Coordinator of the Bachelor's and Master's degrees in Civil and Environmental Engineering, Member of the Pedagogical Council, President of the Assembly of Representatives and Member of the Scientific Council.
During the 2004/05 biennium, he was also Vice-Chairman of the Board of Directors and Director of the IPVC School of Technology and Management.
Jorge Delgado is the author and co-author of several magazine publications and scientific and technical books in the area of Civil Engineering Structures.
From 2008 to 2012, he was a member of the Board of Directors of Metro do Porto, S.A., responsible for Projects, Infrastructure and Technical Systems.
He provided consultancy for studies and projects in the area of Mobility and Transport, especially for Light Rail systems, between 2012 and 2015.
Between 2016 and 2017, he was a non-executive Chairman of the Board of Directors of Sociedade de Transportes Colectivos do Porto, S.A. From 2016 to 2019, Jorge Delgado was a non-executive chairman of TIP – Transportes Intermodais do Porto and executive chairman of Metro do Porto, S.A.
He was Secretary of State for Infrastructure during the XXI and XXII Constitutional Governments, from February 2019 to March 2022.
Transport and climate change: Moving forward from COP26
Thursday, May 19, 2022 - 16:30
18.00