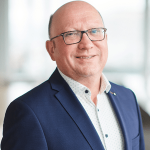 Joost is a Belgian national with 30 years of experience in legal and regulatory policy affairs combined with a strong track in strategy and project management. He served as legal and regulatory affairs director with incumbent operators in the telecommunications, postal, eCommerce/logistics and automotive sectors. He had leading policy-making roles in European associations such as PostEurop, FEDMA, ACEA as well as at the United Nations level (UPU). Joost has also been a member of the cabinet of the Belgian Minister of Economy and director at Hill+Knowlton Strategies, an EU consultancy firm.
Before joining ERTICO in January 2022 as Chief Executive Officer, he was the Smart Mobility Director of ACEA for over five years. Joost hold positions as chair of the Strategy Committee of ERTICO-ITS Europe as well as a member of its Supervisory Board. He served also as a member of the Board of the European Mobility as a Service Alliance (MaaS). Furthermore, Joost was selected as a member of various Expert Groups of the European Commission.
As a frequent speaker at conferences and author of papers, he engages with stakeholders on European and international policy issues and research and innovation project management issues in mobility and digital agenda context.
Fluent in Dutch, French, English and German, Joost holds a Master's Degree in Economic Business Law, a Master's Degree in law and a Diploma in Teaching Law (Universities of Leuven, Poitiers and Louvain-la-Neuve). He gained additional education in the economic, business and management areas.