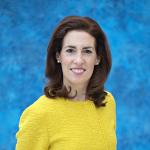 Full Name
Hildegarde Naughton
Minister of State at the Department of Transport
The Minister was elected to Galway City Council in 2009 and elected Mayor of Galway in 2011.
Appointed to the Seanad in 2013, she served as the Fine Gael spokesperson on Jobs, Enterprise and Innovation.
In 2016 she was elected to the 32nd Dáil representing the constituency of Galway West – South Mayo.  She was re-elected to the 33rd Dáil in 2020 and was appointed Minister of State, attending Cabinet, at the Department of Transport with special responsibility for International and Road Transport and Logistics & Minister of State at the Department of the Environment, Climate and Communications with special responsibility for Postal Policy and Eircodes.
She holds BA and MA degrees in Economics and French.