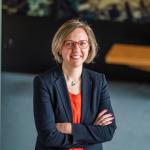 Director of Development and International Relations
Transports Metropolitans de Barcelona (TMB)
Gibet Camós is the Director of Development and International Relations for Transports Metropolitans de Barcelona (TMB), the public transport operator of most of the bus and metro networks of the Barcelona Metropolitan Area.
Her work focuses on developing new projects for the company on an international scale.
Before joining TMB Gibet has always worked in the transport sector, with international organisations such as the World Bank or the Interamerican Development Bank as well as with the transport operator from France, RATP. Her international experience has gone from road and safety projects in the South Caucasus to accompanying Bogota in Colombia for the launch of the first metro line project. In Paris, Gibet worked on the design, implementation and operation of infrastructure and mobility projects including hiring and leading the team in charge to open and operate a new tramline in the north of Paris in 2014.
Gibet is fluent in more than five languages and holds a Master's degree in Transportation and Urban Planning from the École des Ponts ParisTech and a Master's in Civil Engineering from the Polytechnic University of Catalonia.