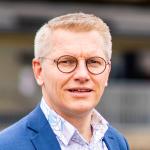 Full Name
Georges Gilkinet
Deputy Prime Minister & Minister of Mobility
Deputy Prime Minister and Minister of Mobility since 2020.
Specialised in social and financial matters, Georges Gilkinet was a Member of the House of Representatives between 2007 and 2020, where he was a member of the Commission for Public Enterprises and the Civil Service and that for Social Affairs until 2009. From 2009, he became a member of the Finance and Budget Commission, and chaired it from March 2012 to June 2014.
In May 2018, he was appointed co-head of the Ecolo-Groen group in the House of Representatives. At local level, he was President of the Municipal Council of Assesse from 2012 to 2020.
Georges Gilkinet holds a  Degree in Social Communications, option Journalism.