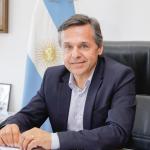 Full Name
Diego Alberto Giuliano
Secretary of Transportation
Doctor Diego Alberto Giuliano was born on 15 January 1965 in Rosario, Santa Fé.
His training includes multiple studies within the Legal and Social Sciences, he completed postgraduate studies at the University of Buenos Aires and the University of Salamanca in Spain. Throughout his career, he has taught specialised courses and lectures and published books and articles as an author and co-author in the country and abroad.
He was a fellow of the Rotary Foundation and the office of the Prime Minister of Japan, he also served as Ordinary Professor of Constitutional Law and Specialist in Public Law issues. He served as a member of the Academic Council of the Fundación del Diario La Capital of Rosario and was a corresponding member of the Institute of Federalism of the National Academy of Law and Social Sciences of Córdoba.
His first political responsibility was as Delegate of the Ministry of Government, Justice and Cult of the province of Santa Fe in 2002. During 2005-2009 he served as Parliamentary Secretary of the Chamber of Deputies of Santa Fe and between 2009-2013 he held the position of Legislative Secretary of the Chamber of Senators of the Province.
In 2019, he held the position of Undersecretary of Institutional and Political Innovation of the Province of Santa Fe and in 2020 he was appointed as Deputy Executive Director of the National Commission for Transportation Regulation. In 2021, thanks to his experience in public management, Minister Alexis Guerrera called him to occupy the position of Secretary of Transportation of the National Ministry of Transportation.