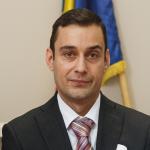 Full Name
Constantin-Gabriel Bunduc
Ministry of Transport and Infrastructure, Romania
As State Secretary with the Ministry of Transport and Infrastructure, Constantin-Gabriel Bunduc covers the fields of EU affairs and international relations, along with the European funded projects and Romania's accession to OECD, in relation to the transport and infrastructure sector.
A legal adviser by training, Bunduc has an extensive experience in European Structural and Cohesion Funds project management. He was a project manager both for the City Council's division of sustainable development and the international airport, where he managed major investment projects from the European Regional Development Fund - Large Infrastructure Operational Program 2014-2020, the EU Commission - CEF Program, and others. Among his projects on the aviation sector:
Increasing the load-bearing capacity and upgrading the landing take-off runway and related moving surfaces: the project's objectives were aimed at upgrading the landing take-off runway, the running tracks, the replacement of the CAT I ICAO light landing system, the modernization of the pluvial sewerage system and perimeter security road, the RESA design and construction of the anti-fall platforms (total value of 40 million euros).
Modernisation and development of air transport infrastructure: the project objectives involved the passenger terminal, the control tower and administrative annex, parking for motor vehicles, intermodal terminal for road transport, electric plant, thermal plant, fire water tank and pumping station and garage for trucks (12 million euros).
SPICE Synchronized PBN Implementation - Cohesion Europe SPICE: a project aimed at implementing a PBN-based navigation system that exploits the advanced navigation capabilities (RNAVs) of modern aircraft to allow efficient airspace design and air traffic system planning to optimize available airspace. The SPICE project has a value of 39.029.792 euros, 85% and is co-financed by the European Union through the Connecting Europe Facility.
Transport and climate change: Moving forward from COP26
Thursday, May 19, 2022 - 16:30
18.00