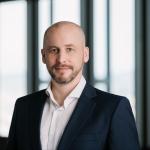 Rail Freight Forward (RFF)
In his role as Spokesman of the Rail Cargo Group's Board of Directors, Clemens Först is in charge of finances, planning the group functions that oversee Service Design, and the digital transformation of the Rail Cargo Group. He has held CXO positions in the European rail logistics sector since 2012 and has had many years of experience in logistics on a global scale. As Chairman of the CEO Taskforce of the UIC and CER, Clemens Först plays an active role in increasing the competitiveness of rail freight transport. He is co-founder and Chair of Rail Freight Forward, a trans-European initiative committed to drastically reducing the negative impact of freight transport on the planet and mobility through innovation and a more intelligent transport mix.
Previous positions: COO DB Cargo AG (2015-2016); Managing Director European Contract Logistics - Austria GmbH (2015); CFO Rail Cargo Hungaria Zrt., Managing Director Rail Cargo Carrier Kft. (2013-2014); Head of Strategy and Corporate Development, ÖBB-Holding AG (2011-2012); Junior partner Vienna office McKinsey & Company (2006-2011).
Clemens Först holds a Doctorate in theoretical physics and chemistry, Vienna and Clausthal University.
The future of supply chains: Innovation and regulation for greener, more accessible freight transport
Wednesday, May 18, 2022 - 16:30
18.00