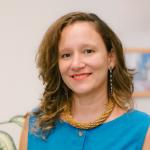 Full Name
Clarisse Cunha Linke
Institute for Transportation & Development Policy (ITDP)
Clarisse Cunha Linke is a Brazilian who has been involved in planning and implementing social policies and programs since 2001, with experience in Brazil, Mozambique, and Namibia. She holds a Masters in Social Policy, NGOs, and Development from the London School of Economics and Political Science (LSE), where she received the Titmuss Examination Prize in 2005.
Clarisse joined ITDP Brazil in 2012. From 2006 to 2011, she was a Director at the Bicycling Empowerment Network Namibia (BEN Namibia), where she played a key role in expanding BEN Namibia's activities, helping it develop the most extensive community-based enterprise bicycle distribution network in sub-Saharan Africa. In 2010, she was awarded by Ashoka Changemakers in the "Women, Tools, and Technology" Challenge for the work done in Namibia with women. Since 2014, she has been a postgraduate professor at the Social Responsibility and Sustainability Laboratory (LARES) at the Institute of Economics at the Federal University of Rio de Janeiro (UFRJ). From 2017 to 2019 she was a Board Member of the Sustainable Low Carbon Transport Network (SLoCaT). In addition, she has been a Global Future Council on Mobility member of the World Economic Forum since 20018. In 2019, she was recognized as a "Remarkable Women in Transport" by the Transformative Urban Mobility Initiative (TUMI).
Clarisse is currently a PhD candidate in Architecture and Urbanism School at Fluminense Federal University (PPGAU/UFF). She intends to explore how current narratives about the future of mobility have the potential to generate greater inequity and socio-spatial segregation, particularly for women, black people, and residents of Brazilian urban peripheries.