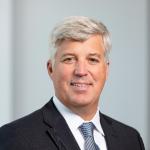 Executive Vice President, Sectors & Decarbonisation
Carlos Maurer leads Shell's global Sectors & Decarbonisation organisation of more than 3,380 people, providing customers with energy and decarbonisation solutions in the aviation, marine, commercial road transport, agriculture and forestry, industry and construction sectors. His sector-based teams bring specific sectoral experience and deep industry knowledge to support customers in reducing their emissions and working with them to identify and accelerate decarbonisation strategies and pathways. 
He also has oversight of Shell's Low Carbon Fuel business; Raízen, the Brazilian joint venture with its strong biofuels offer; and Shell's Customer Operations team, which works closely with sector leads to ensure that no matter where the solutions come from in Shell, our customers' experience is seamless.
Carlos joined Shell in 1997 in the United States. He holds a Master's degree in Business Administration from Rice University in Houston, as well as a BSc in Industrial Engineering from Texas A&M University. He is married with three children. He is based in London.
The future of supply chains: Innovation and regulation for greener, more accessible freight transport
Wednesday, May 18, 2022 - 16:30
18.00