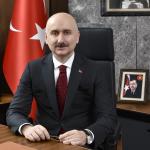 Full Name
Adil Karaismailoğlu
Minister of Transport and Infrastructure
H.E. Karaismailoğlu holds a BSc degree in Mechanical Engineering from Karadeniz Technical University and a Master's degree in Urban Systems and Transport Management program from Bahçeşehir University.
He started his professional career in 1995 in the Transport Coordination Directorate of Istanbul Metropolitan Municipality (IBB). He served as engineer and manager in Istanbul Electric Tramway and Tunnel Establishments (IETT) and as Traffic Deputy Manager and Transport Coordination Manager in IBB. He was appointed as the Head of Transport Division in 2014 and as the Deputy General Secretary for Transport, Environment and Technology in 2018 in IBB. He resigned from his office in July 2019.
During his terms, he took part in the development, implementation and realisation of many projects in Istanbul such as Waste Incineration and Energy Generation Facility, Waste Gas-to-Energy Facility, Industrial Base Thermal Disposal Facility. He contributed to the development of the Istanbul General Rail System Investment Plan, Master Plans of Istanbul on Transport, Parking, Logistics and Traffic Safety as well as the preparation of IBB Climate Change and Istanbul Air Mass Action Plan. He pioneered the integration of intelligent transport systems (ITSs) into the 35.000-km transport network of Istanbul and the establishment of the first Traffic Control Center of Turkey.
H.E. Karaismailoğlu was appointed as the Deputy Minister of Transport and Infrastructure on 20 September 2019 and since 28 March 2020, he has been serving as the Minister of Transport and Infrastructure.
The future of supply chains: Innovation and regulation for greener, more accessible freight transport
Wednesday, May 18, 2022 - 16:30
18.00