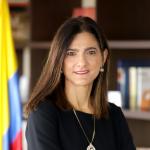 Full Name
Ángela María Orozco Gómez
Ángela María Orozco Gómez is a Barranquilla lawyer from Universidad Javeriana with a Master's degree in Comparative Jurisprudence from the University of Texas (United States), a specialist in Economic Law from the Externado University of Colombia and a Fellow at the Yale World Yale University (2003). She was designated as one of the 100 global leaders of tomorrow by the World Economic Forum (2000), as one of the 10 outstanding young people of Colombia by the Junior Chamber of Colombia (2000) and as the year's Foreign Trade executive by the Association of Foreign Trade Directors 2001). 
 
Since August 2018 she serves as Minister of Transport of Colombia. Previously she has worked in the public sector as Minister of Foreign Trade (2002), President of Proexport (2000-2002) and Vice Minister of Foreign Trade (1998- 2000). She excelled in positions such as General and International Manager and Vice President of the Colombian Association of Flower Exporters (Asocolflores, 1995-1998), Head of the legal office of the Superintendence of Securities, where she was also an advisor (1994-1995), Associate Lawyer in Araújo Ibarra & Asociados (1993-1994); Economic Advisor to the Embassy of the United States (1993), Deputy Director of Trade Promotion Instruments (19921993) and Head of the Legal Division of the Commercial Practice of Incomex (1990-1992). She has also served as a member of international trade dispute settlement panels within the framework of the WTO (2015-2016) and ALADI (2004). 
 
Her teaching activity has been developed at the Externado de Colombia University, the Colegio Mayor de Nuestra Señora del Rosario, the Universidad Pontificia Javeriana and the High Management Program of the Universidad de los Andes. Her last position was President of the Colombian Association of Producers of Edible Fats and Oils (Asograsas) and is a founding partner of Research and Opportunities, a boutique consulting firm with an emphasis on international trade and investment, where she represented the interests of Colombian companies, both importers of inputs as producers of national goods, in cases of commercial defence.